Ayurvedic medicine has long known the importance of digestive health. Traditional Ayurvedic wisdom tells us that Agni, the digestive fire in your belly is the gateway to all good health as well as being from where most health issues stem. So how do we keep the digestive flame burning? Below are seven of my top tips plus, a spiced roast pumpkin & chickpea soup recipe that will ensure all bases are covered.
1. Eat seasonally.
Ancient Ayurvedic Medicine has always known the vast, wide ranging benefits of eating seasonally, from improving digestive strength and immunity to weight loss, mood and blood sugar levels. Just as the seasons change so too do our body's demands for different microbiome, found primarily in locally grown, seasonal foods.
2. Try chia or flaxseeds.
High in fibre and loaded with essential fatty acids they lubricate the intestinal wall as well as nourish the microbes that are essential for optimal digestive health.
3. Eat your greens.
Loaded with fibre and magnesium they support the large intestine and all it's demands for muscular contractions. Green leafy vegetables have cellulars that literally attach to the bile in our digestive tract and escort it on out. Plus, they are highly alkaline which supports lymphatic drainage and ultimately, your detox channels are your digestive channels.
4. Try warming meals.
As we set into the cooler months, warming foods such as soups and stews place less pressure on your digestive system, making the digestive process easier.
5. Eat plenty of legumes.
Loaded with fibre they are an excellent addition to any meal.
6. Add spices.
One of the best ways to turn the digestive flame back on is to add spices to your meal.
7. Use ACV.
Last but not least, begin your meal with what is now a household trick. Try 1tsp to 1tbs of Apple Cider Vinegar mixed with 1cup water, 15-30 minutes prior to your meal.
Spiced roast pumpkin & chickpea soup recipe by Shelley Kamil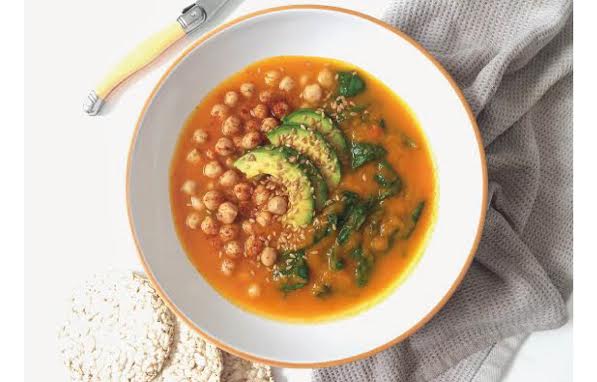 Ingredients
1 x large butternut pumpkin, deseeded and chopped
2tsp cumin
1tsp turmeric
1tsp paprika
Sea Salt to taste
2tbs olive oil
6 carrots, chopped
1 red capsicum, finely diced
1 can organic chickpeas
Boiling water
Handful of spinach leaves per serve
1tsp flaxseeds per serve
1/4 avocado, sliced, per serve
Directions
1. Pre heat the oven to 200. Line a baking tray with baking paper. In a large mixing bowl, combine pumpkin, 1tsp paprika, 1tsp sumac, Sea Salt and 1tbs olive oil. Mix well to combine. Lay pumpkin out evenly on baking tray and transfer to oven, bake roast pumpkin for approx. 30 minutes or until slightly golden and tender.
2. Heat a large saucepan over medium heat and 1tbs olive oil and sauté carrots and red capsicum, stirring occasionally for 5-6 minutes. Add the roast pumpkin and cover with water. Lower heat to a gentle simmer, season with sea salt and cover. Continue to cook for approximately 30 minutes or until all the vegetables have softened, adding boiling water as needed. Once ready, remove from the heat and using a hand held blender, carefully blend until a smooth texture forms.
3. Return to a low simmer, add the spinach leaves, stir to combine and season once more with sea salt and pepper. Divide between serving bowls and serve each bowl with a few slices of avocado, a sprinkling of chickpeas, flaxseeds and paprika.
Want a free guide on making space for weight loss? Check out our eBook 'Light Wisdom'.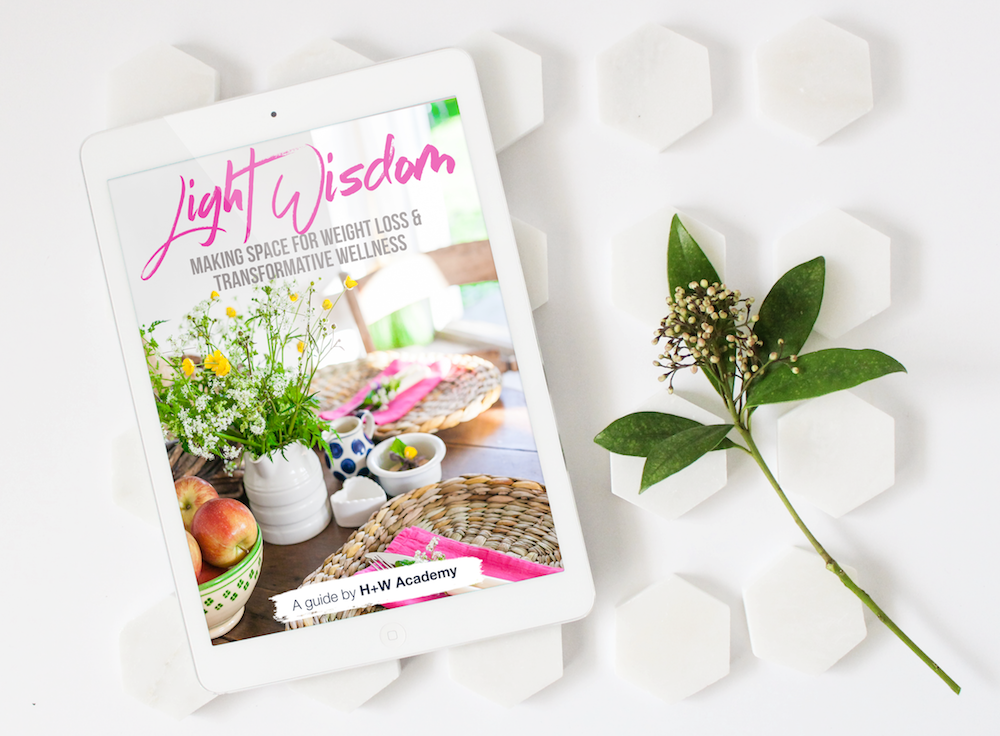 Latest posts by Shelley Kamil
(see all)
---