Eleven years ago I was bitten by the travel bug. I took a year out before university to explore some of this big wide world and I haven't recovered from this insatiable wanderlust since. Since then, I've taken many solo trips – including a three-month trip through Central America, a healing journey to Bali and an eight-month stint as an English teacher in Spain.
Whilst I love traveling with friends, the level of independence, freedom and self-reliance that has come from traveling alone has been unrivalled by anything else.
The thrill of booking that flight and touching down in an unknown city, gaining new friends, new perspectives, new ideas, new experiences – it's addictive.
With that in mind, I wanted to share some insights I've gained along the way to help you make the most of your solo travel.
Leave any limiting beliefs at the airport.
Setting out on your own can of course be terrifying – it's natural to feel scared or apprehensive. It's easy to listen to those ego-driven, fear-based thoughts – 'I won't meet anyone', 'Why am I doing this?!', 'I'm not brave enough to do this by myself', 'It won't work out, why am I even bothering?', 'What if I can't get a job when I get back'? It can be easy to become crippled by these thoughts and even talk yourself out of even going.
One of the things I love most about traveling is that you can have expectations about yourself and places, but until you're actually immersed in the experience and in the present, the likelihood is that your expectations will be blown out of the water.
I was shown this so beautifully earlier this year when I embarked on a trip to Ubud, the healing paradise of Bali. On the plane over I found myself thinking those fearful thoughts – 'why am I doing this again?! I'm not going to meet anyone …' etc etc.
Twenty-four later and there I was on the morning of my first day of a juice cleanse and I met two incredible, like-minded women. We spent the rest of our time hanging out and supporting each other and are still in touch.
Traveling alone is a fantastic opportunity to transcend limiting beliefs you have about yourself, to prove your fears wrong and adopt a different, more valuable and positive perspective.
Jump and the net will appear.
When I booked a one-way ticket to Colombia three years ago I was burnt out, stressed and anxious after working in a demanding environment and over-partying whilst living in London.
An inner knowing that I had to go was getting increasingly louder. During this time, I couldn't get out of my head the aphorism 'jump and the net will appear'. And my word, it did. After I finally plucked up the courage to hand in my notice, leave my tenancy and say my goodbyes, everything fell beautifully in to place – everywhere I went I seemed to meet exactly the right people I needed to, I made new friends, I followed my gut on the next places to go and had the most incredible time.
Don't be afraid to say goodbye to security and comfort for a while. Yes, it can be terrifying, but on the other side of that fear can often be enriching experiences, expanded horizons and huge levels of personal growth.
This quote also really struck me and was also responsible for me making that leap:
"Twenty years from now you will be more disappointed by the things that you didn't do that by the ones you did. So throw off the bowlines. Sail away from the safe harbor. Catch the trade winds in  your sails. Explore. Dream. Discover." – Mark Twain
Listen to your intuition.
I can't emphasise this enough. Unfortunately traveling alone as a woman has an added risk attached to it. It's the world we live in, and you can become a prime target.
If you find yourself in a situation and you get a distinctive feeling in your gut, listen to it, take heed and get out! Remember this is YOUR trip, if you've been hanging out with some people and you're no longer feeling good around them or get a weird vibe from someone, honour that. Your safety and comfort comes before all else. Looking back, the times I ignored my gut were the times that I ended up in potentially sticky situations.
On the flipside, if you get a hunch that you need to be somewhere, chances are that you DO! So go, curious and see what the universe has lined up for you.
Practicalities.
Padlocks, a sleeping mask, earplugs, carrying money in your bra, download plenty of podcasts and make playlists for long journeys – all essentials!
If you've chosen to embark on a backpacking trip, be mindful that hostels on the popular routes generally fall into two camps – party vs chill. I really recommend looking up reviews online before you go, or asking for recommendations if you'd rather not find yourself in a dorm with those looking for a wild night.
It can be so tempting to hide behind your iPad or laptop if you find yourself alone in a hostel bar and feeling awkward, but often this gives off signals that you're not interested in talking to people. Most people are generally very open and friendly, so try leaving your devices locked up in your room and strike up a conversation or two, you never know what you could find out.
Make an effort with the locals as well as those travelers you meet along the way – it can be so enriching to delve into what it's really like to live somewhere, beyond the comfort of the usual tourist destinations.
Ask the hotel/hostel/guide for places to avoid and don't be afraid to tell people to leave you alone if they're hassling you (it might be a good idea to memorise some key phrases in your destination language).
Be open to changing plans.
Do your research but don't let it constrict you – be open and flexible. When I set off for Central America, I had some savings, a loose plan and an open mind. I very much went with the flow, knowing from previous experience that the majority of places I ended up going were from word of mouth. Travelling promotes surrender – often giving us situations in which we have no choice but to hand over control to a higher power rather than trying to plan and manage every minute detail of our lives. This practice can take you places beyond the realm of anything you could ever imagine.
And don't forget to download our free Adventure Edition of Happiness + Wellbeing Magazine!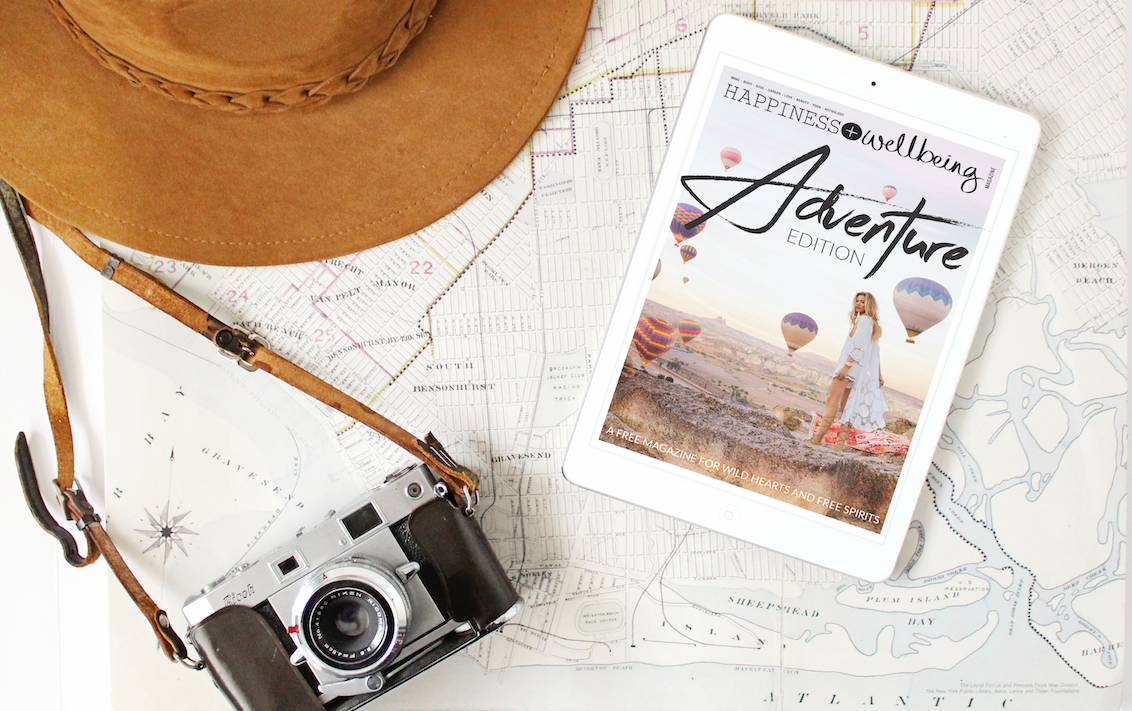 Latest posts by Helen Morris
(see all)
---