If you wear make-up on a regular basis and are searching for that squeaky clean feel after you wash your face, you'll want to read this article.
Because on our beauty-scouting journey, we stumbled across the potential Holy Grail of skincare: new technology that promised to revolutionise the cleansing process and pave the path for clearer, more flawless skin. In under two-minutes a day.
Naturally, we were intrigued.
A rival to the well-established (and well-loved) Clarisonic, Foreo's range of facial cleansing devices assert that 'in just three days, the LUNA facial cleansing brush will bring you skin that appears visibly healthier and more radiant, and continued use will leave your skin looking enviably younger and smoother.'
How it works
The LUNA is a cute little device. We got our happy hands on one for sensitive skin, and it looked like this.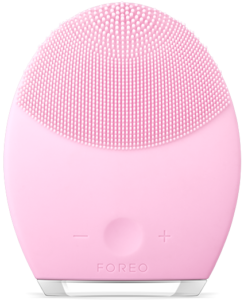 It works by harnessing 'the unique combination of T-Sonic (we had no idea what that means either, don't worry) pulsations with silicone touch-points' to 'gently exfoliate dead skin cells and unclog pores of make-up residue as well as 99.5% of dirt and oil, enhancing the absorption of your other skin care products.'
Why would you use it?
 According to Foreo, the LUNA can help you to:
Remove excess make-up residuce.
Exfoliate your skin.
Enhance absorption of your other skin care products.
Refine your skin tone.
Reveal a more radiant complexion.
Tone and massage your face for firmer-looking skin.
Reduce the visibility of fine lines and wrinkles.
Our experience
Okay, so we're always keen to add something new to our skin care routine, if only because it lets us pamper ourselves for a little longer.
How we used it:
Cleansed skin as per usual.
Rinsed with cold water.
Applied cleanser a second time.
Used LUNA (by letting it tremble all over our face, one section at a time).
Rinsed skin – and LUNA – with cold water.
Used LUNA a second time (on anti-aging mode).
Rinsed skin a third time (just to be sure to be sure).
Applied toner and moisturiser as per usual.
Went to sleep*.
*We only used the Foreo LUNA every few days, in the evening.
So, how did it go?
Well, in real life, the whole 'T-Sonic pulsations' deal was reminiscent of an adorable baby porcupine (with soft quivers) trembling against your skin for a few minutes.
It was fun. And easy. And it felt nice.
But did it work?
Yes. And no.
Our skin was definitely cleaner when we used the LUNA. There was zero make-up left over. Our skin felt soft and dewy and our other beauty products seemed to soak in much better. On evenings when we used the LUNA, we woke up with the type of skin that the phrase 'beauty sleep' implies. Which had a compound effect because it was then easier to do our morning ritual on already-glowing skin.
But despite using the sensitive version, we still broke out at first. This is apparently normal, and after a few weeks, our skin definitely got used to the new cleansing process and the breakouts settled down.
We didn't notice any differences in fine lines and wrinkles, but we didn't really have much to begin with. And between us, we only used the anti-aging mode when we remembered, which was once a week at most.
Our verdict?
If you have a couple of hundred dollars spare to invest in your skin care routine, go for it. Just be aware that even if you buy the sensitive version, you might have a transition period where you break out. So don't start using it a week before your wedding or right before that hot date.
Also, it's not a miracle device. If you have a less-than-stellar diet or poor beauty routines, using the LUNA won't fix that for you.
But the LUNA is an excellent supplement to your existing skincare routine, especially if you wear makeup regularly and are looking for a deeper clean. It has an edge on the Clarisonic (which we've also used) due to its hygienic silicone bristles that, unlike the Clarisonic, do not require replacing.
It's easy – and fun! – to use and only takes a few minutes. And anything that gives you a few minutes of 'you' time is an asset in our books.
Disclaimer: Foreo kindly sent us a LUNA for sensitive skin for free to review and try. If you have any questions about this review, please don't hesitate to email us at hello@happywellmag.com
Latest posts by Editorial Team
(see all)
---