I'm not that great at consistency. Starting things? Awesome. Following through on a day-by-day or week-by-week basis … er, not so much. So when I got my happy little hands on The Beauty Chef's Body Inner Beauty Powder and Glow Inner Beauty Powder, I was excited but also a little wary.
After all, how could I tell if the beauties were working if I wasn't taking them every, or at least most, days? And given my track record … let's just say that I wasn't convinced I was going to see any results.
But I decided that in any case, I was going to give it a shot. Especially when I had been hearing such amazing feedback on The Beauty Chef's range (both products got the nod of approval from my not easily impressed naturopath friends).
And so I cracked open the lids of the Body Inner Beauty Powder and Glow Inner Beauty Powder and got ready to rumble.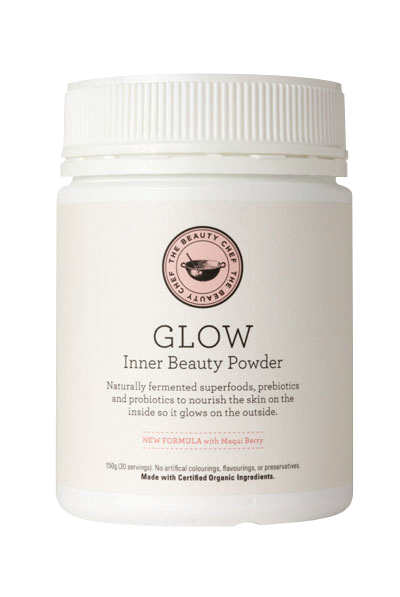 Why I was taking The Beauty Chef products
Before we dive into my experience, I just wanted to share and why I was so excited about taking these gorgeous products so we're on the same page.
I was taking both products in the hopes of clearing up a recurring rash/pimple colony that kept popping up near my eyes. My gut feeling (pun intended … wait for it) was that it was gut related. So by adding in some super foods and fermented yummies into my diet, hopefully I would nurture a healthy gut dynamic and my skin would become as clear as Ryan Seacrest's shame when he tried to high-five a blind person (sorry, had to slip that in there).
The catch? I wasn't changing my diet. At all. Now, I'm going to be honest with you guys: I don't eat clean 100% of the time. And I'm going to be even honester – totally a word – I don't even eat clean 70% of the time most days. I have potato chips, waffles and chocolate. Sure, I like green juices, acai berries and raw cacao, but I'm not pedantic about my diet. You probably, most definitely, have a healthier diet than me. Don't worry, I'm working on that.
But my reason for telling you this is so that you understand that my diet wasn't conducive to skin awesomeness. My entire clear skin hopes and dreams were pinned on these products.
Tough brief, right?
And so my journey begins.
The beauty experiment
The first thing I did when The Beauty Chef goodies arrived on my doorstep was to crack open the lids and, naturally, give them a big old whiff.
I hate being surprised by foods and normally do the sniff test to check whether it's actually palatable before I pop it into my gob. And much to my surprise, they both actually smelled pretty darn good. The Glow powder was more neutral, but the Body powder smelt like a chocolate milkshake. With an eyebrow raised, I spooned a ¼ teaspoon of the Glow powder (started off small) and two heaped teaspoons of the Body powder into a glass of coconut milk and stirred.
Make sure you stir well when you mix – otherwise you'll end up with clumps.
A deep breath and a hesitant sip later, I was enamoured.
The clouds parted, cupid sailed down on his cloud throne and an arrow pinged straight into my heart.
Hello, Beauty Chef.
I guzzled the shake (I learned quickly to sip, not guzzle, as drinking it too fast upset my belly) and wiped my lips with the back of my hand.
This was true love.
I picked up my Beauty Chef products in around October 2014 and they've now been a part of my daily – yep, you read correctly – routine for over three-months. I actually look forward to my beauty shake. And for someone with very picky tastebuds, this is a big deal.
So, now I bet you're wondering … what happened next?
The results
The official spiel –
"Our unique Inner Beauty Powder combines a blend of carefully selected certified natural and organic ingredients to nourish and enhance the skin from the inside, giving your skin a healthy glow on the outside."
"Packed with bio-available plant proteins, super fruits and vegetables, alkalising greens, spices, probiotics and green tea, The Beauty Chef BODY Inner Beauty Powder is a revolutionary super-food wellness supplement designed to nourish your body from the inside out and help promote a healthy weight range in conjunction with a balanced diet and exercise program.
An all-natural, vegan, 95 per cent Certified Organic formula, BODY is designed to help boost your daily protein and nutrient intake, while helping to kick start your metabolism, curb sugar cravings and nourish your body so that it can perform at its best."
My verdict –
Even without changing my diet, my skin became softer, smoother and less prone to flare-ups. I did still experience a rash some days (especially after I consumed fatty foods), but it disappeared faster and wasn't as red. I believe that if I changed my diet to eliminate sugar and take-away, the rash and pimples would have disappeared completely.
My tummy and gut health feels more balanced but again, I believe I need to change my diet to fully nurture thriving gut health.
My nails became stronger, longer and fast growing as heck! I wasn't expected this at all, so it was a pleasant surprise to see my normally weak nails thriving and growing. They used to break and chip a lot, but it's very rare this happens anymore.
I found that I had less split ends and breakages in my hair.
When I ate healthy, I found that The Beauty Chef powders combatted my need for sugar and icky foods.
I didn't lose weight but I didn't gain weight either. Had I boosted my exercise and ate better, I think both products would have supported this process.
These days, I don't take The Beauty Chef powders every day, but they're still a part of my weekly routine and I'm finding great results even from just making a shake four times a week.
Would I recommend The Beauty Chef?
Yes
I was over the moon with my results and can't see myself eliminating these products from my diet anytime soon.
I do recommend you try to change your diet (unlike I did) to see really good results however.
But the best part?
It tastes freaking delicious.
Happy beautifying!
P.S. Don't forget to check out The Beauty Chef's website for awesome recipes that you can make with their products!
Happiness + Wellbeing Academy is an enlightening online home for curious and conscious students of the Universe to gather, learn and share the philosophy of a happy + well life. Our digital magazine is totally free and each issue is designed to help you foster inner peace, adopt a more conscious lifestyle, master the art of meditation, nourish your body with balanced nutrition and find spiritual practices that enhance your life and wellness.
Latest posts by Editorial Team (see all)
---