"It all begins and ends in your mind – what you give power to has power over you, if you'll allow it." – Leon Brown.
It's true – the human brain is an incredible organ that makes up our experiences; actually, it makes up our entire reality.
Kinda weird to think about, right?
I am reading a book right now written by a wonderful and hilarious Buddhist woman called Pema Chödrön. I am not necessarily a Buddhist myself but like all religions, I think that Buddhism shares concepts about the world and humanity that are extremely transcendent and universally true.
And, the three chapters I have read so far have all had to do with the mind. Our mind holds the ability to both trap us, and set us free. I have experienced times in my life that were full of worry and anxiety. I know all too well that debilitating cycle of thoughts that go around and around. You know – the ones full of uncertainly that consume you until you cannot make sense of what you really feel vs. what you think you feel …
That state is not a fun spot to be in, and it's easy to feel helpless; but I bare good news, you can help yourself with the wisdom I am about to share.
Do you ever have thoughts pop into your head that make you feel terrible? Or confused? Do you ever think about the worst case scenario and let the frightened feelings those thoughts bring put a stop to your actions? Do you believe your thoughts enough to allow them to conjure your reality?
There is a pattern to the questions I just asked you. Your thoughts are creating your feelings in these situations.
Don't listen to feelings that are born from your thoughts.
Thoughts are just thoughts. They don't have any meaning unless we give them meaning, and they can cause you to feel things that aren't true.
Let's switch gears here to my second set of questions for you.
Do you ever look out at an open field and feel an overwhelming sense of freedom? Do you ever look at a puppy and feel giddy and playful? What about when you look into your lover's eyes, do you feel butterflies? Attraction? Safety? Bliss?
The similarity between all of these questions is that they are examples of situations where feelings come before thoughts.
You don't look at your mother and think "Oh, I love my mother" and then feel love, it's the other way around. You feel first. All those feelings that come before thoughts are TRUE. Believe them.
And it's as simple as that.
So again, the secret to remember about your feelings and thoughts is this: If the feeling comes before the thought, trust it. If your thoughts make you feel something, feel the feeling but then let it go, it doesn't have to control your reality.
For more enlightenment and self-care, don't forget to check out our Truth or Dare Self-Discovery + Happiness Game!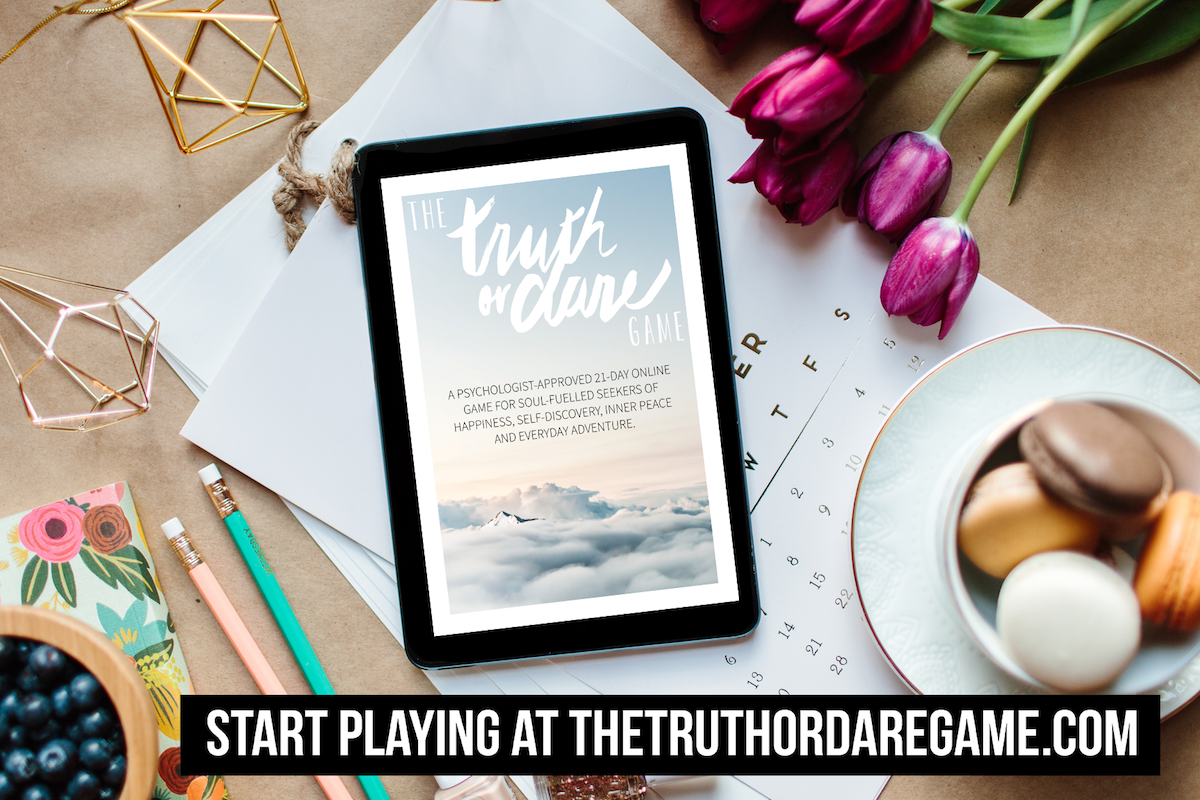 Latest posts by Chelsie Aichelberger
(see all)
---