If you had told me a month ago that I could go to sleep with wrinkles, and wake up without them, I would have snorted and asked what Hollywood-inspired movie idea you were pitching.
So you can imagine my surprise when, last week, I went to bed with wrinkles … and woke up without them.
The brainchild of Australian beauty brand, Wrinkles Schminkles, this easy solution to forehead, eye, chest, neck and décolletage wrinkles is both refreshingly non-invasive and happily affordable.
"Using silicone, which had long been used in the medical profession to treat scarring, the Wrinkles Schminkles range is designed to work its magic on wrinkles that can appear on the chest, neck, décolletage and of course, we didn't forget about the face.
Aside from being ultra-convenient and easy to use, the best part about Wrinkles Schminkles is that our Silicone Pads literally work overnight. Simply peel, stick and sleep, and wake up to smoother skin and fewer wrinkles." Wrinkles Schminkles explains.
But … do they work?
Surprisingly, YES. At 29, I'm lucky to have avoided facial wrinkles so far, but have found that upon waking my chest has a distinctly crinkled, crepey look. Which, of course, I adore. Not.
Which is why the main focus of my Wrinkles Schminkles trial was the décolletage. Don't get me wrong: the facial kit I received to try was brilliant too. But I'm a face smoosher when I sleep and although the pads weren't uncomfortable, they weren't entirely comfortable for me either.
So. The décolletage pads. Which, to be frank, fricken rocked. The pad came in the shape of a love heart and stuck to my chest like this. Cute huh?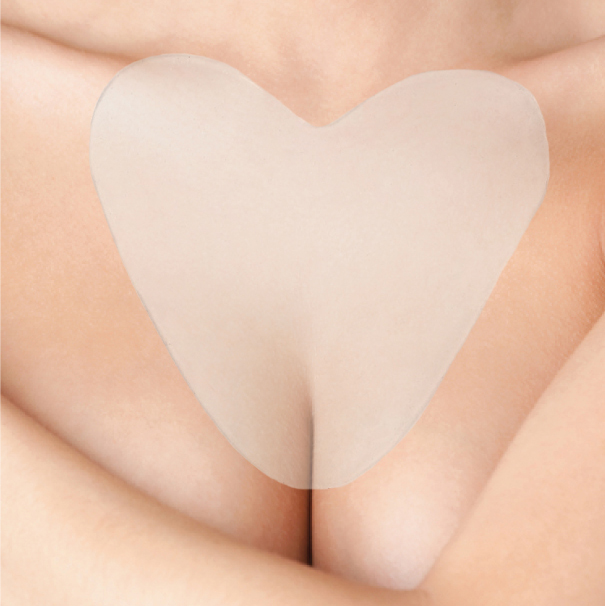 The pads are reusable and you can prolong their life with Wrinkle Schminkle's cleaning solution.
As for my results, while the pad did leave a red mark in the morning, once the redness had faded (which took about an hour) it was pretty obvious that my wrinkles had disappeared. Gone. Kaput. Nowhere. To. Be. Seen.
I don't have a before and after to show you (those that lack foresight aren't always a delight!), but I've borrowed a few from the Wrinkles Schminkles site. Given my experience, I believe these are pretty accurate and reliable.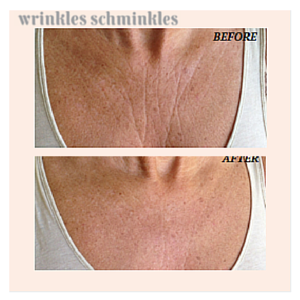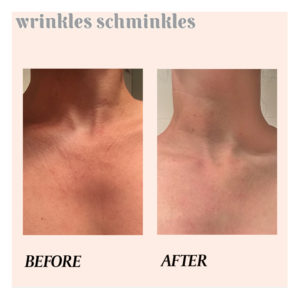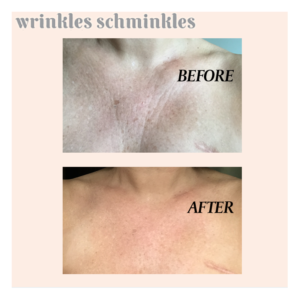 Why it works.
Naturally, when I woke up looking like I'd lost ten years from my chest, I headed straight to the Wrinkles Schminkles website to figure out why. 
The explanation was simple: By ensuring that my skin didn't crease overnight, my skin was unable to create fresh wrinkles.
And because the adhesive pads were made from medical-grade silicon, my skin was kept hydrated while increased blood flow encouraged the production of collagen, visibly softening existing wrinkles.
Not magic … but it definitely feels like it when you wake up wrinkle-free in the morning.
Sound like something you'd like to explore? Head on over to the Wrinkles Schminkles website to find out more.
Please note: We received these products for free to try and review. 
Latest posts by Cassandra Lane
(see all)
---